Paperback 3-Book Set | 72 Pages
Each Book Includes 8 Pages of Literacy Activities with Digital Download
Share
Regular price
$11.95 USD
Sale price
$9.95 USD
Unit price
per
Sale
Coming Soon
Now on The Reading League's list of Decodable Text Sources!
The R-Controlled Vowel Beginning Reader Set is perfect for children who have mastered blending short vowel, digraph, Magic E, and ending-pattern words and are ready to learn the R-controlled vowels. This 3-book, 72-page set is the sixth installment in Charge into Reading's Decodable Book Series and focuses on the three sounds made by R-controlled vowels: AR, ER, and OR.
Three engaging and humorous R-controlled vowel stories

 

that a beginning reader can ACTUALLY read.
Simple sentences:

 

(Mark slips his arms in his parka. "The butter is too firm," Bert blurts. Norman spots some sports shorts on the porch.)
Only 3 sight (high-frequency) words:

 some, too, you

94 unique R-controlled vowel words.
Introduces new vocabulary:

 abhor, barge, blurts, chirps, concur, cornet, curd, depart, informs, remark, retorts, slivers, sparse



24 pages

 

of R-controlled vowel specific literacy activities including decoding, phonemic awareness work, and spelling enable small groups to transition seamlessly from reading to practicing literacy skills.
Includes digital download of literacy activities.
Created and written by best-selling author Brooke Vitale and designed in consultation with Marisa Ware, MSEd, a LETRS, Top Ten Tools, and Orton-Gillingham-trained reading specialist and executive function coach. 
Each book in the R-Controlled Vowel set contains an R-controlled-specific story, a complete word list, and 8 pages of r-controlled-specific literacy activities. Books include: The Shark: an AR Decodable Reader; Bert the Baker: an ER, IR, and UR Decodable Reader; The Storm: an OR Decodable Reader.
For purchase orders or orders of more than 6 copies of a set, email us at contact@chargemommybooks.com or call us at 1-203-295-4072.
Printed in the United States

All Charge Mommy Books are printed in the United States of America
Dedicated to Literacy

10% of net profits donated to literacy initiatives
Super!
These books work perfectly with OG scope and sequence and provided great practice for my students who are working on r-controlled vowels. I highly recommend these decodables!
View full details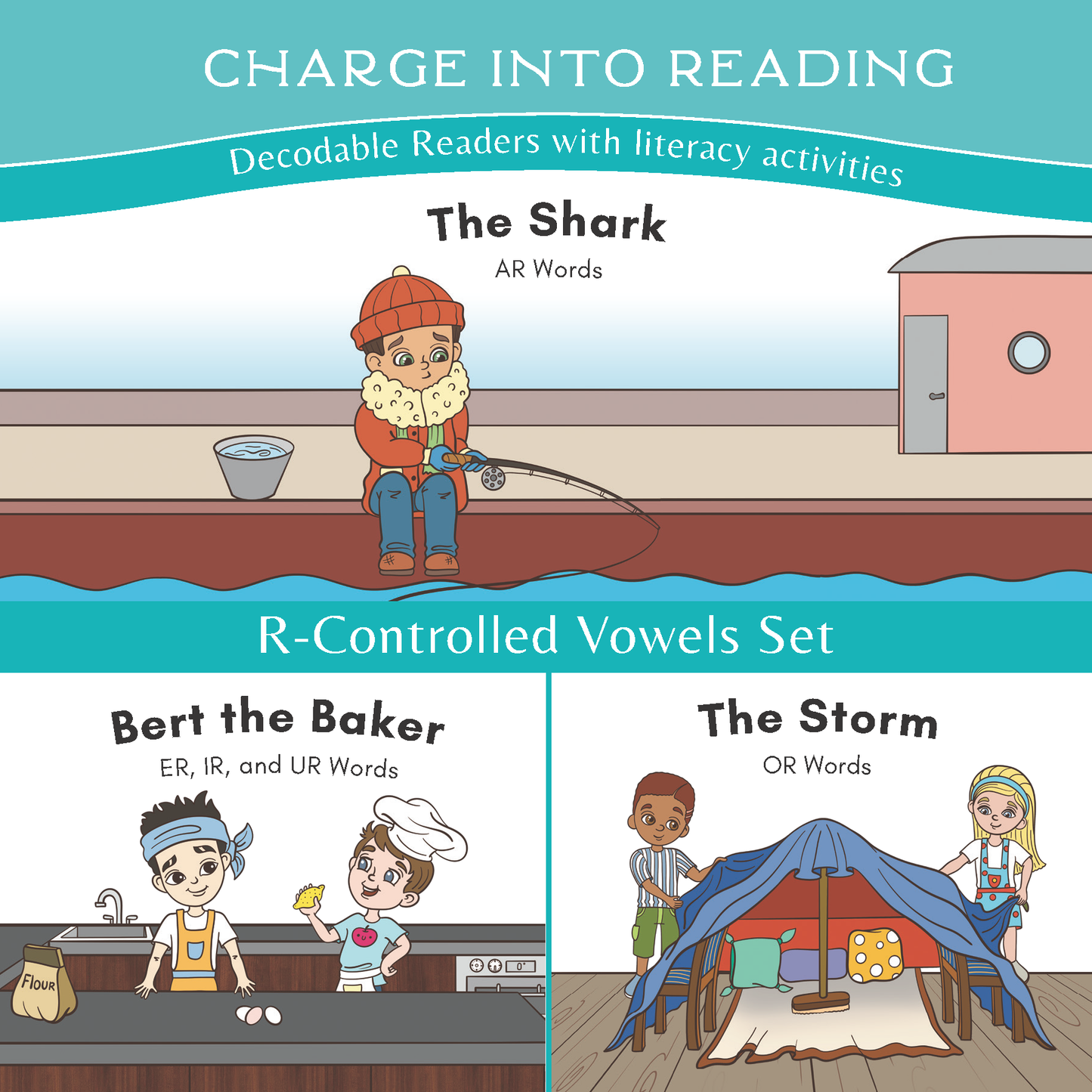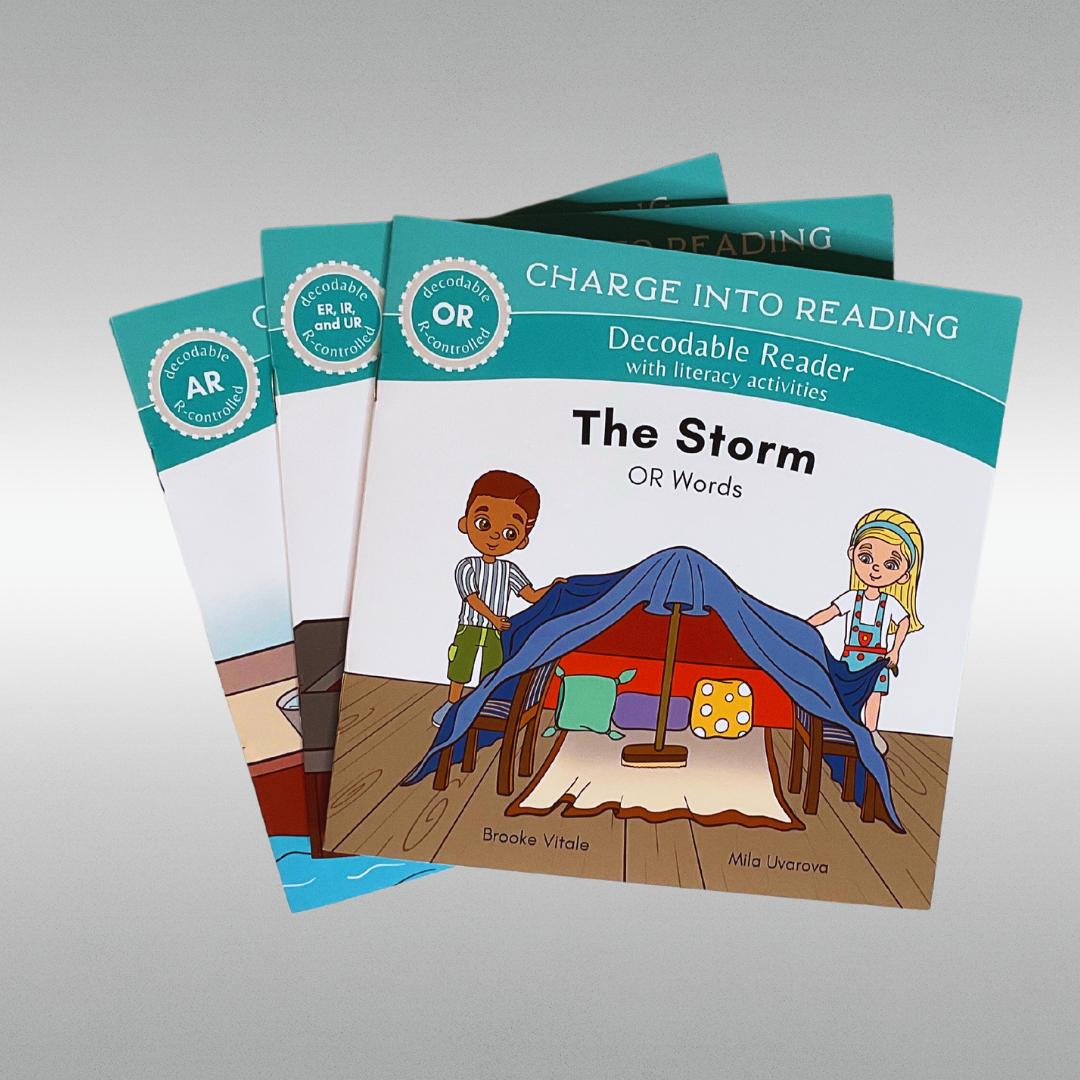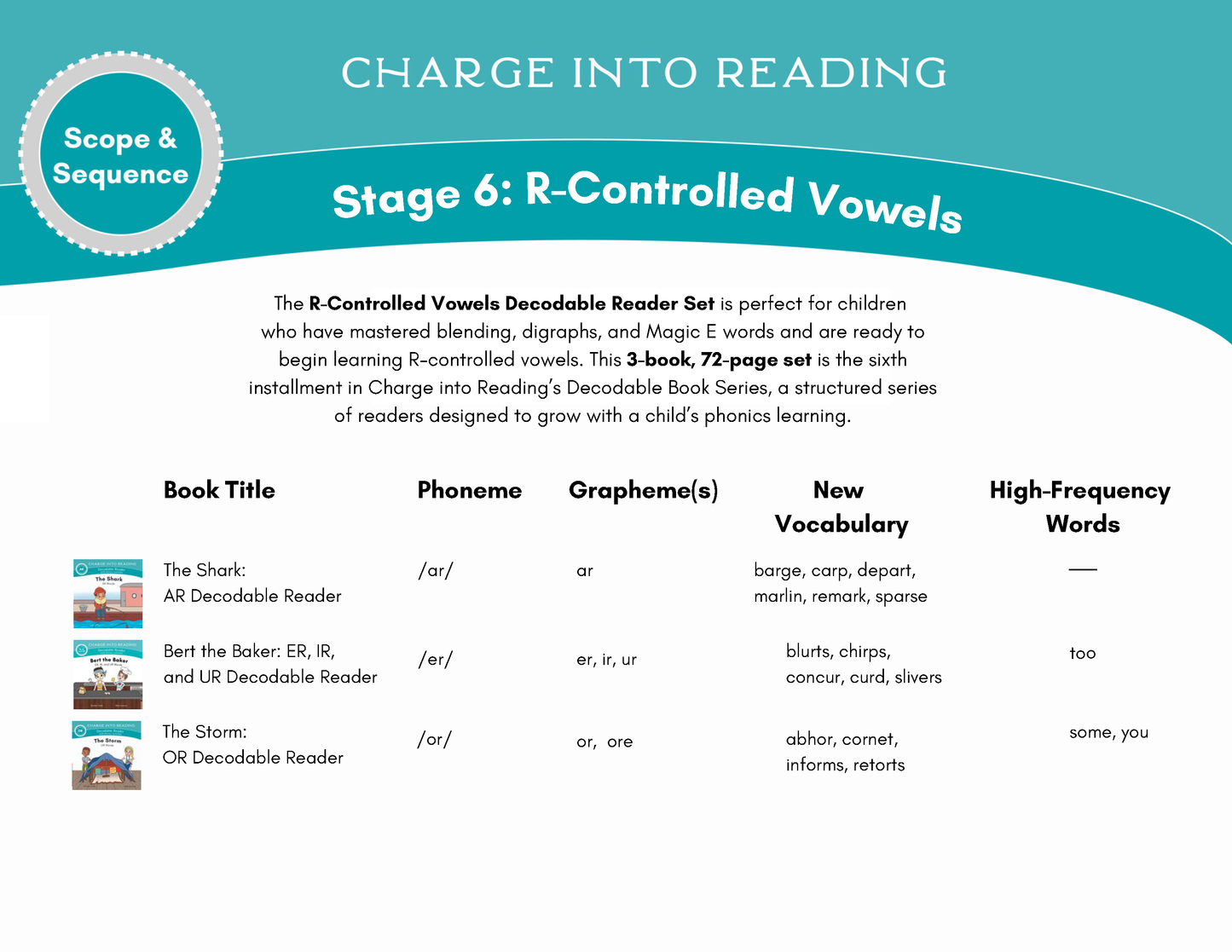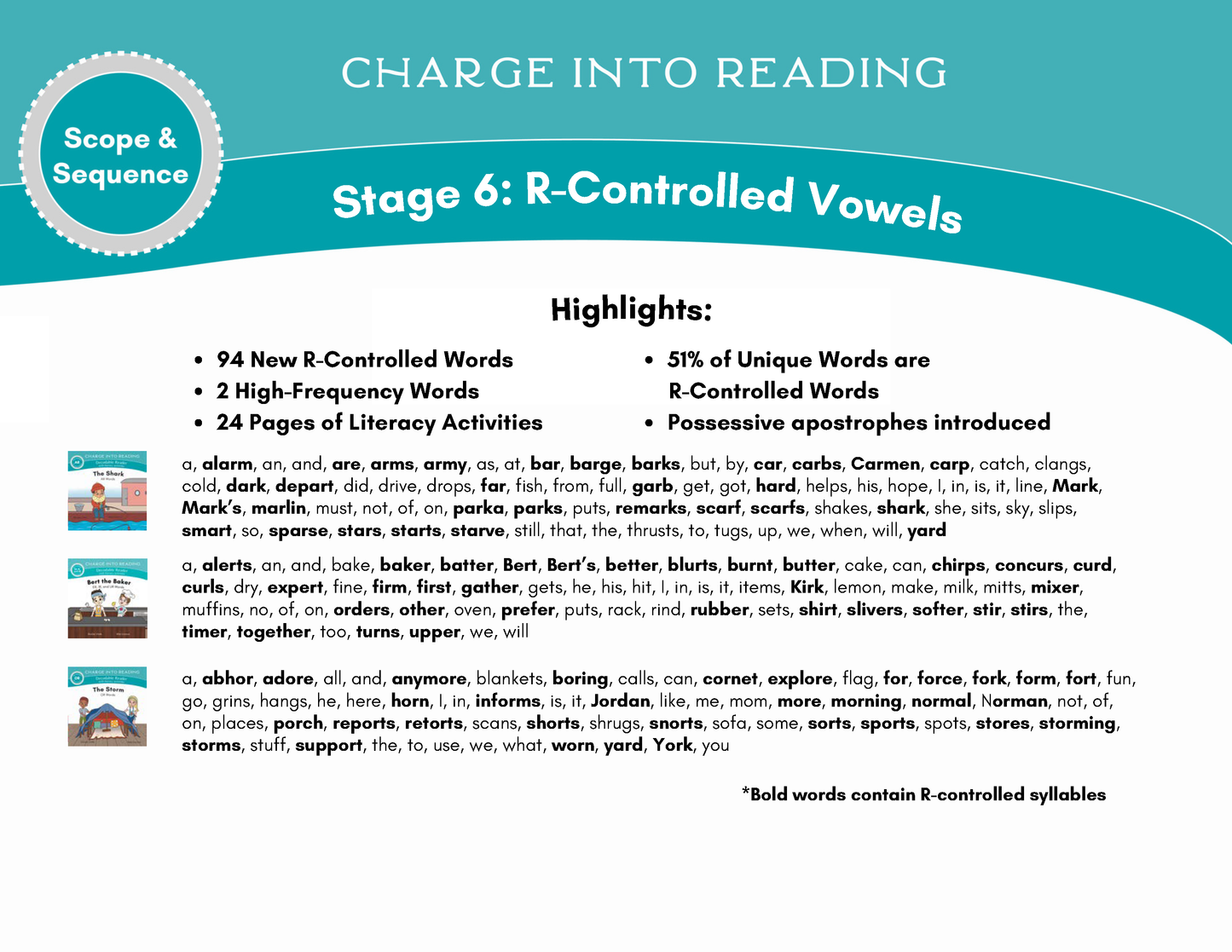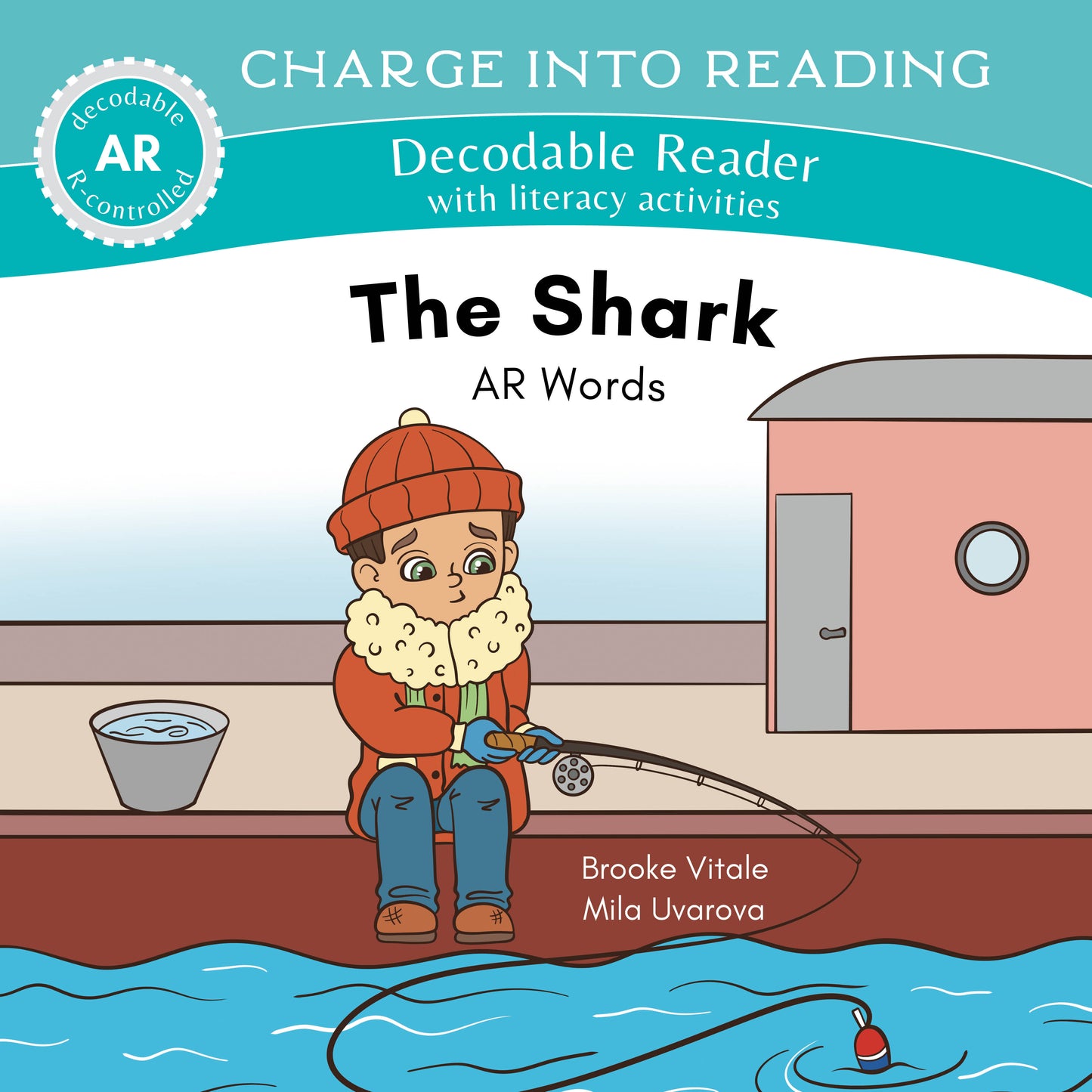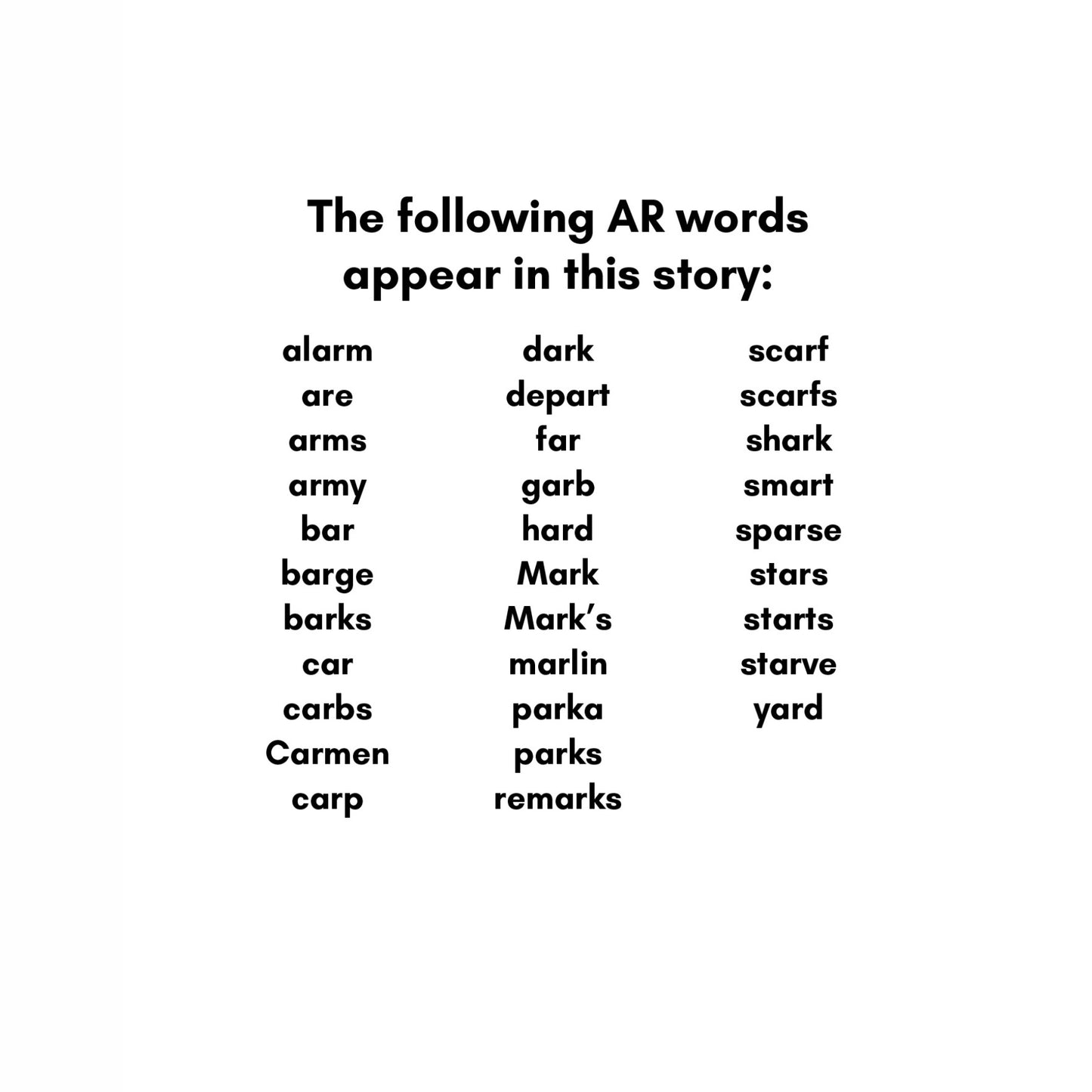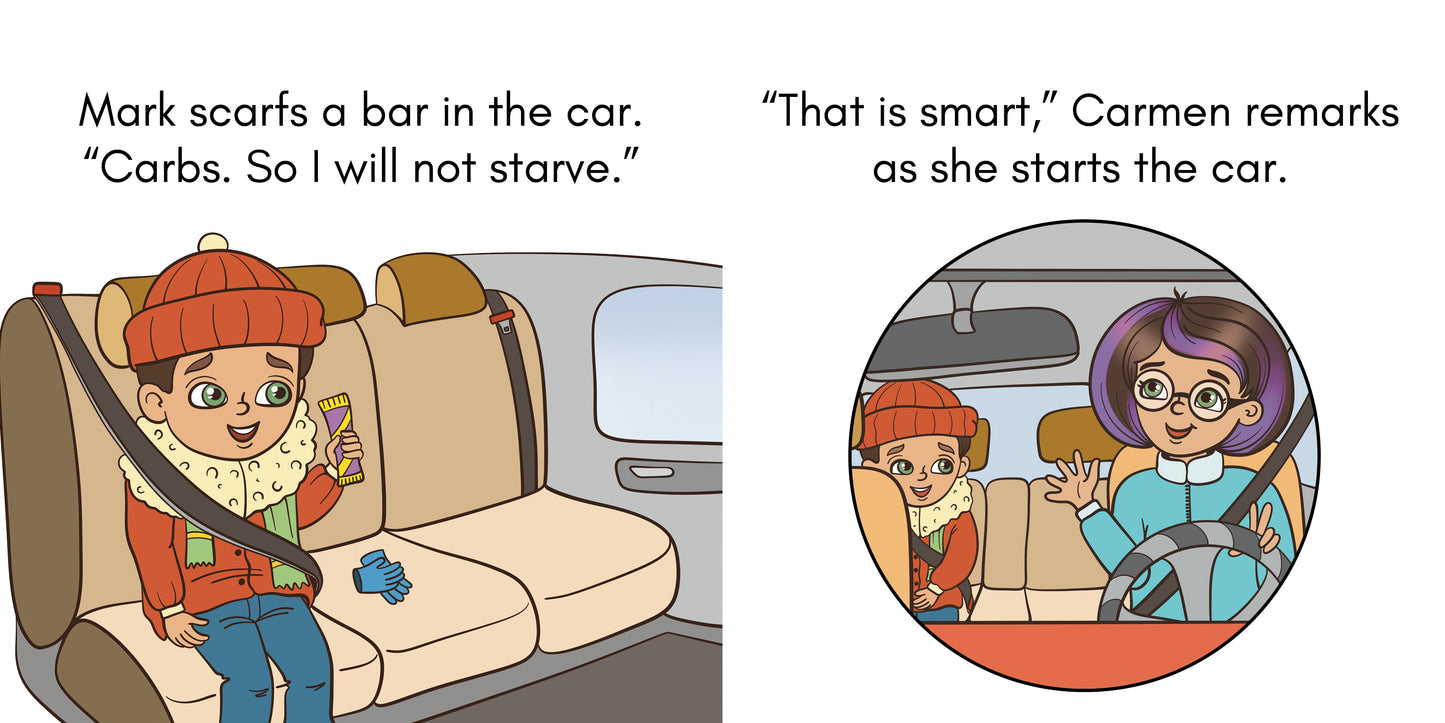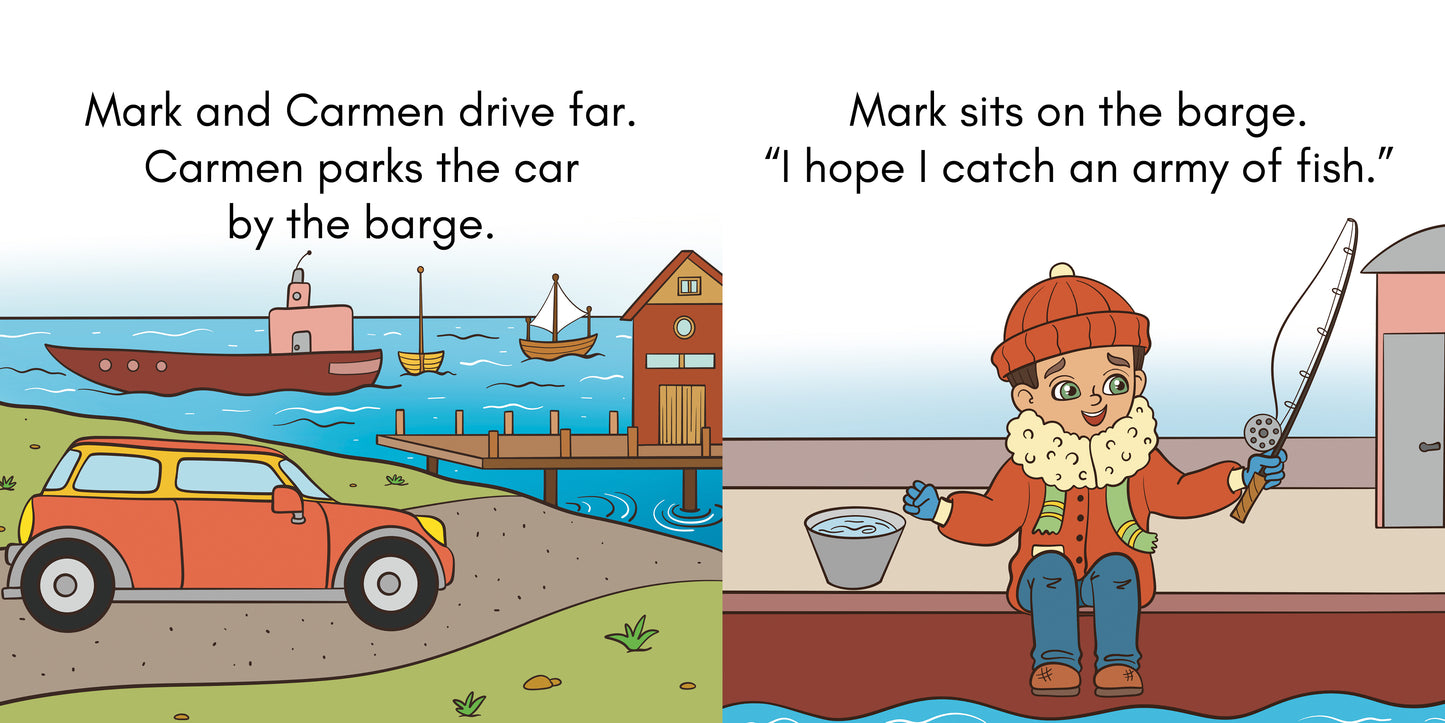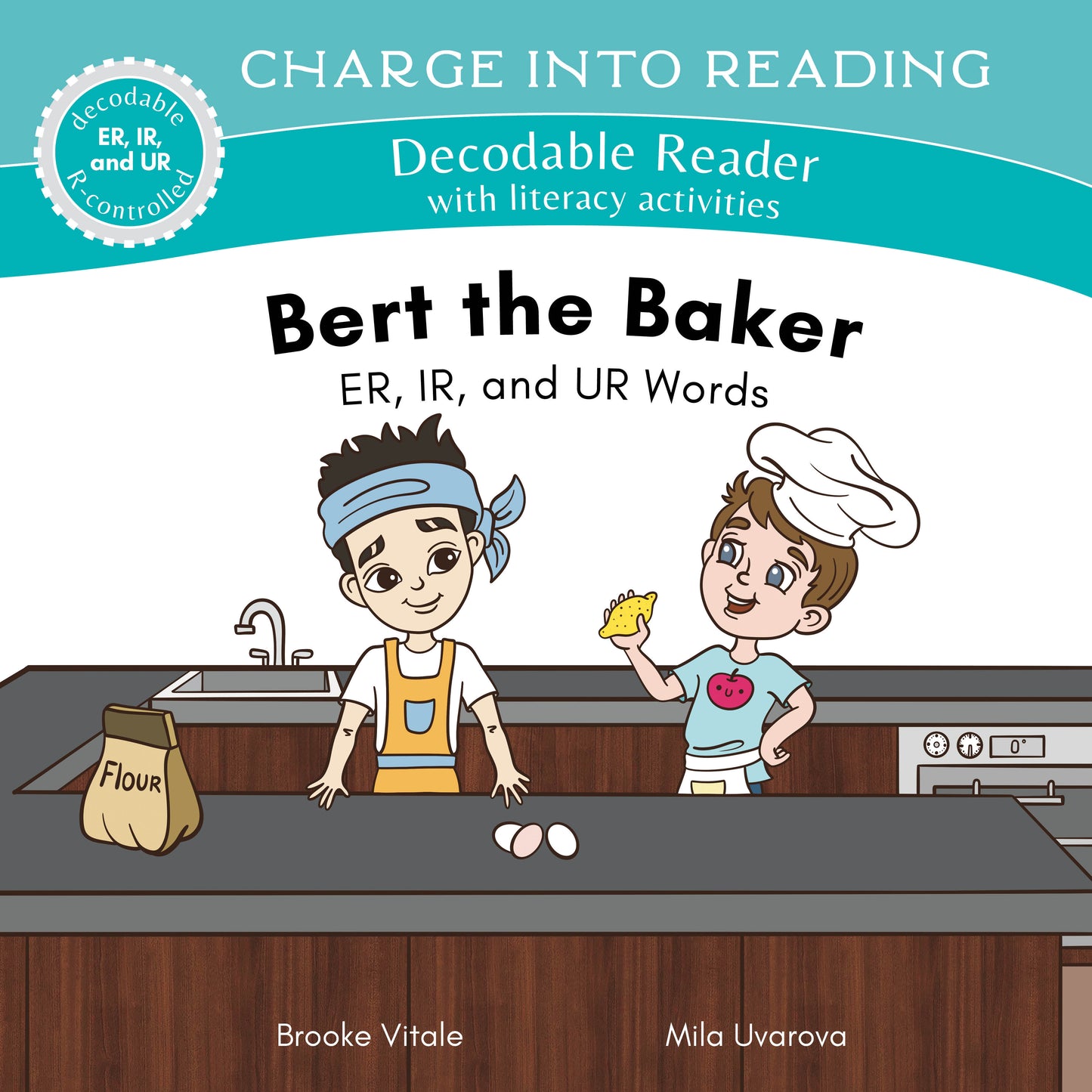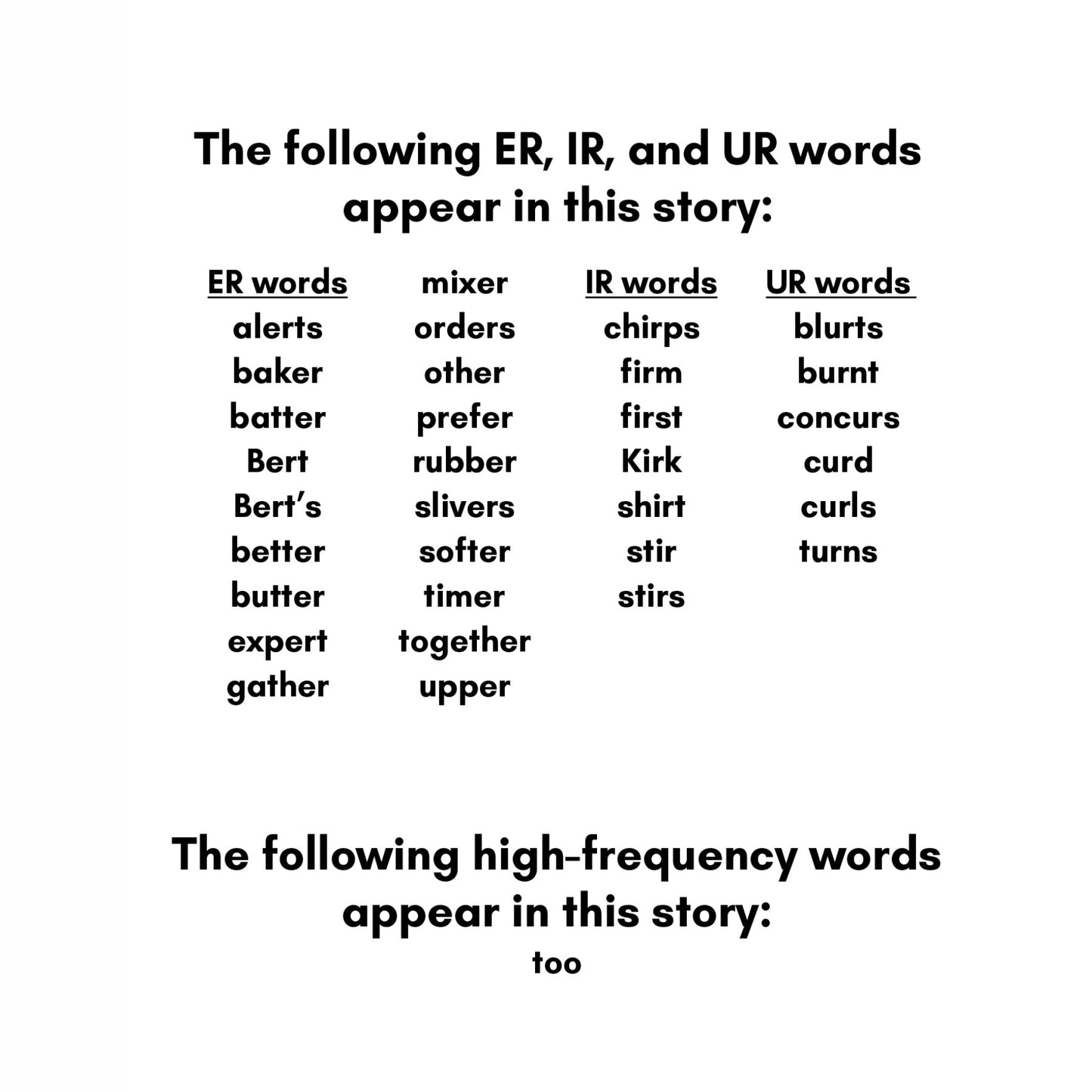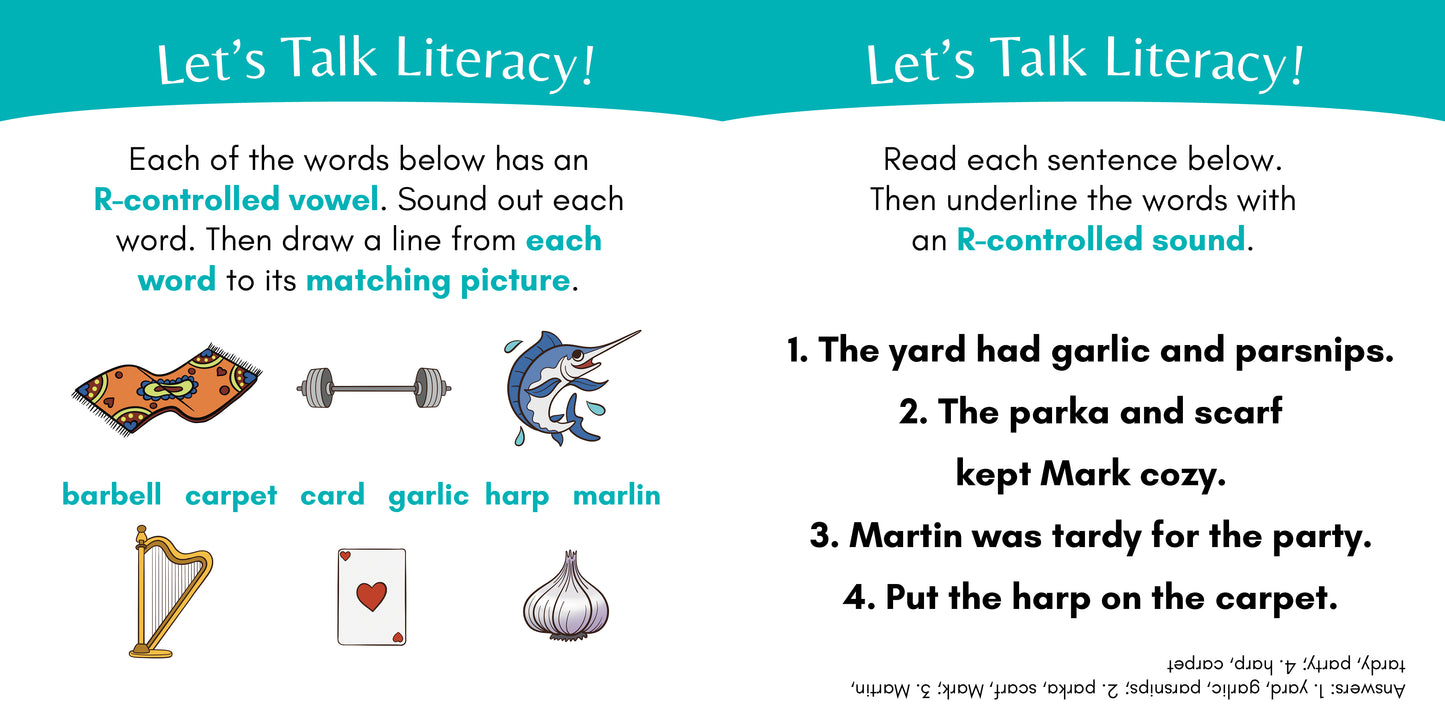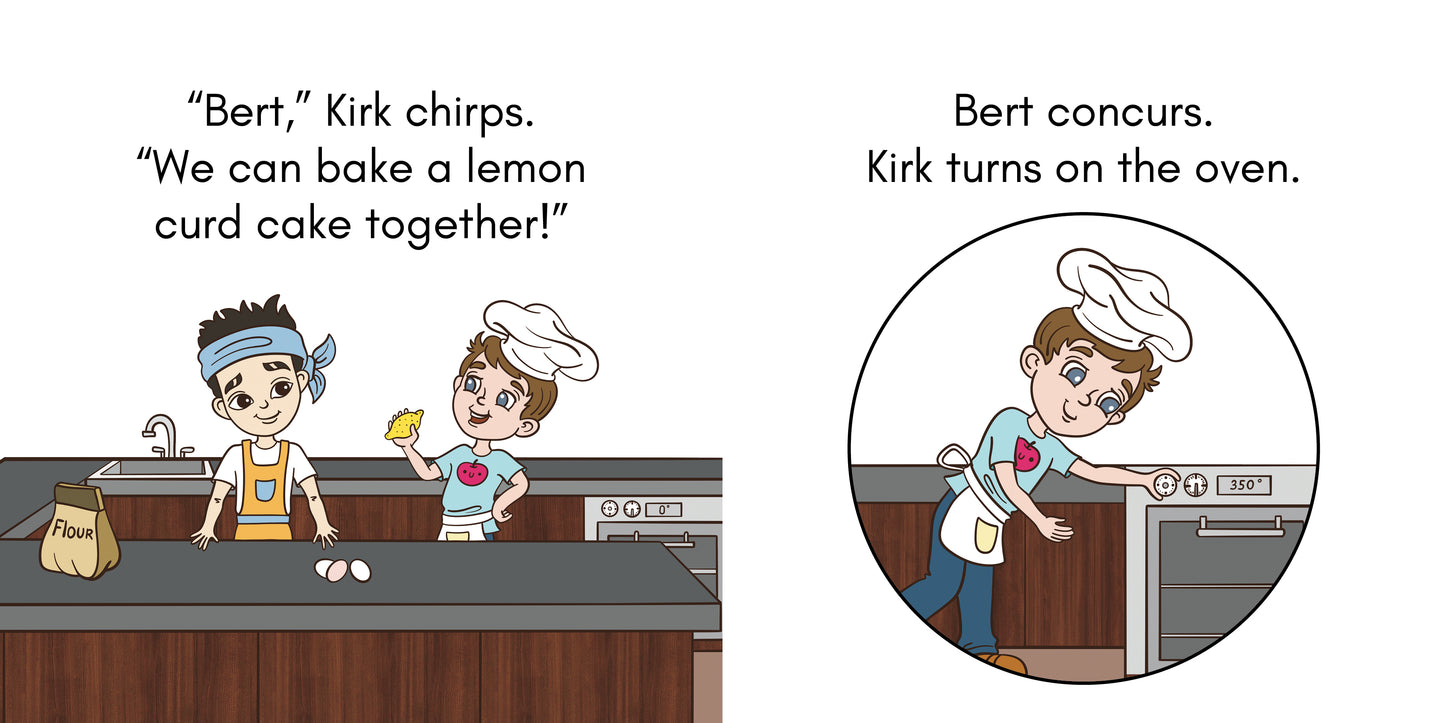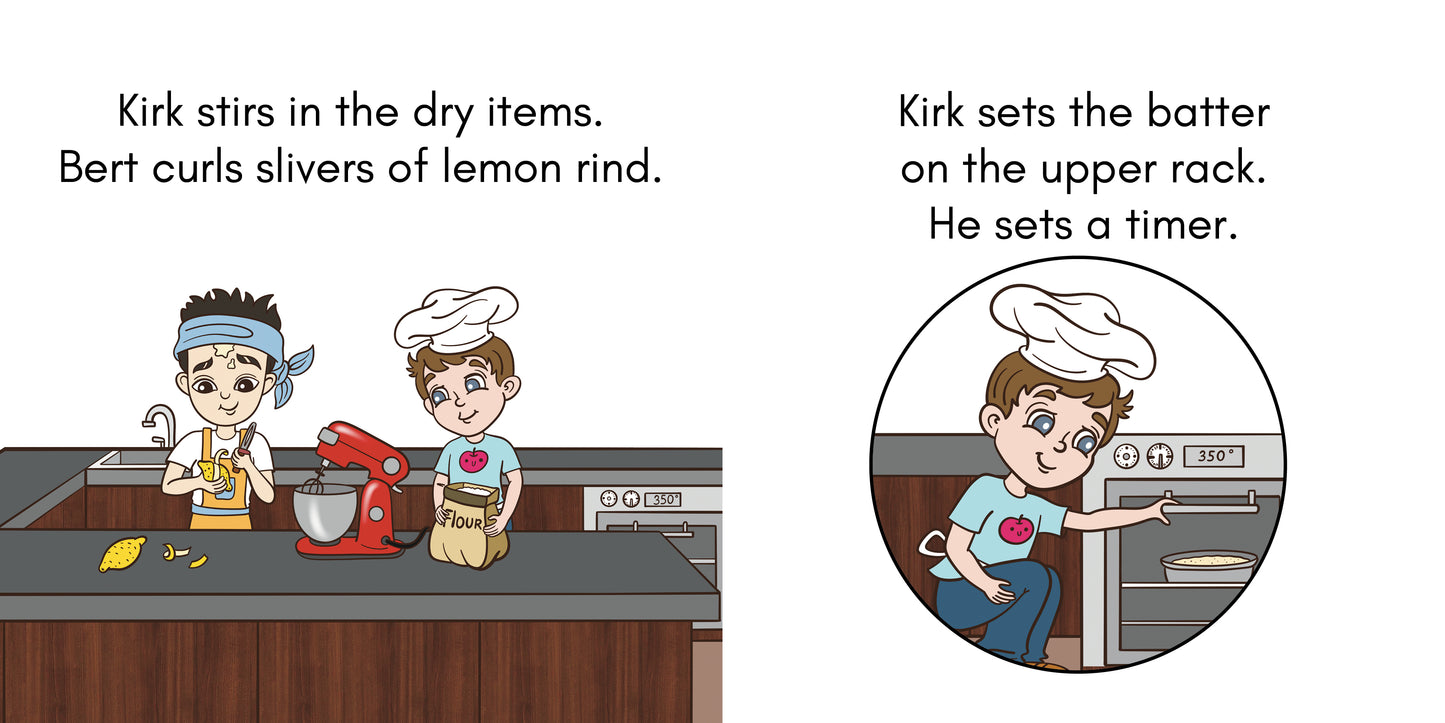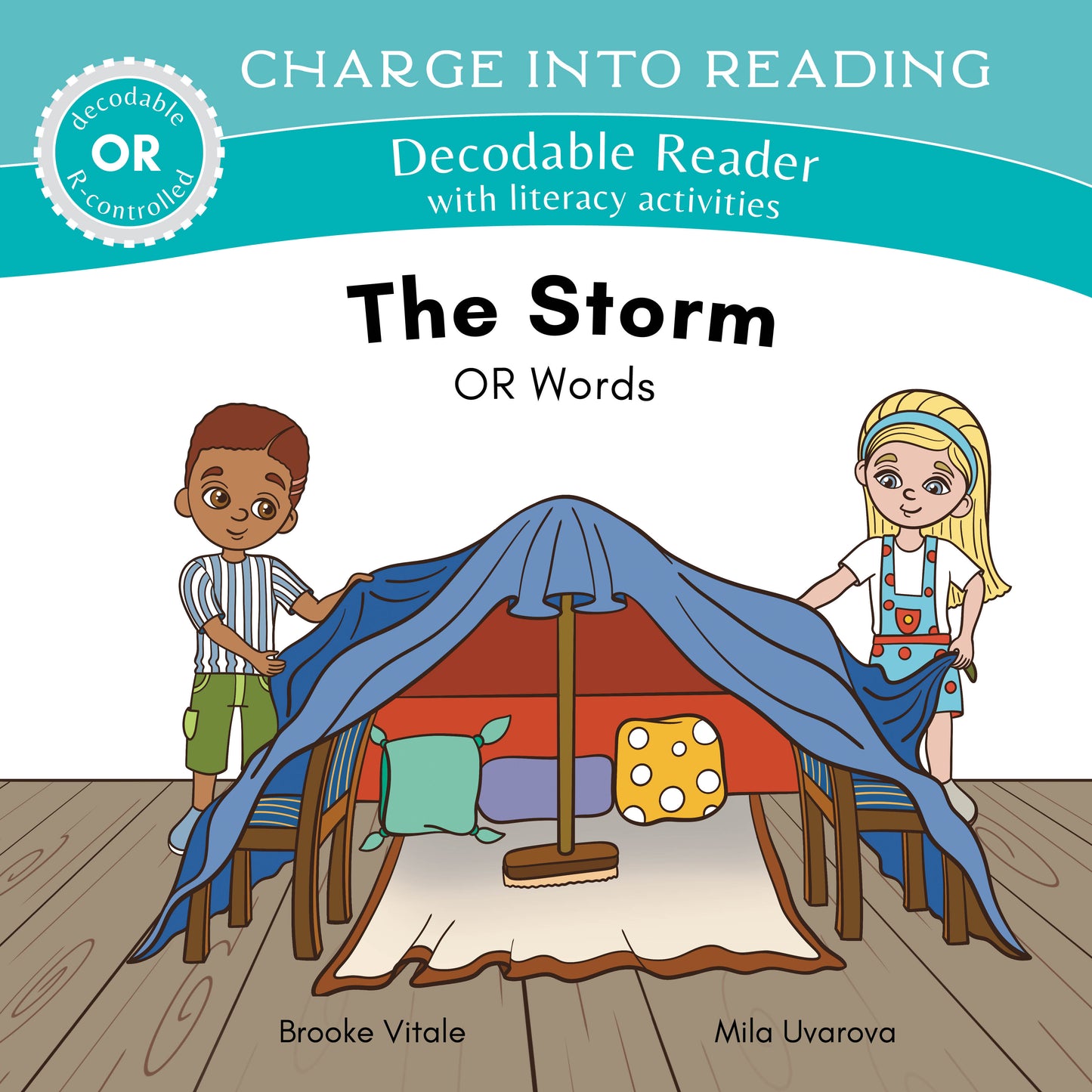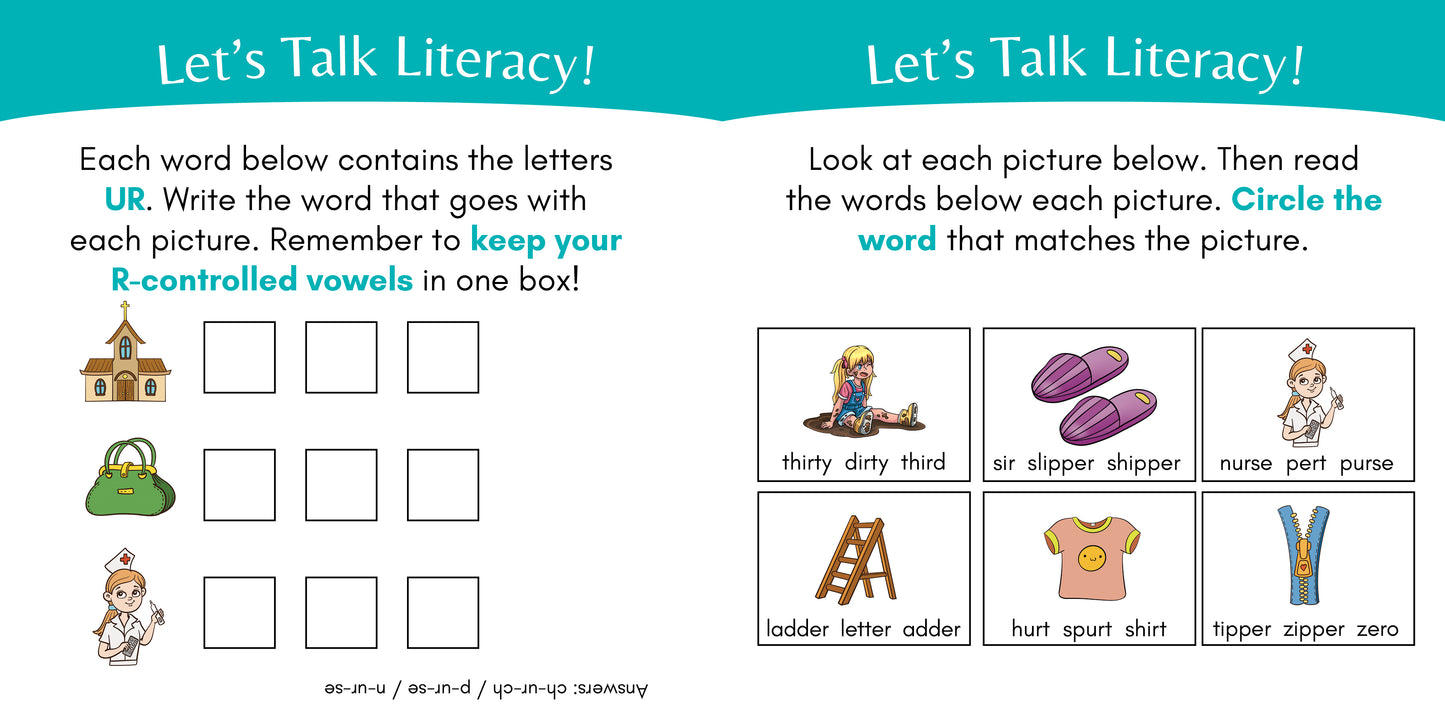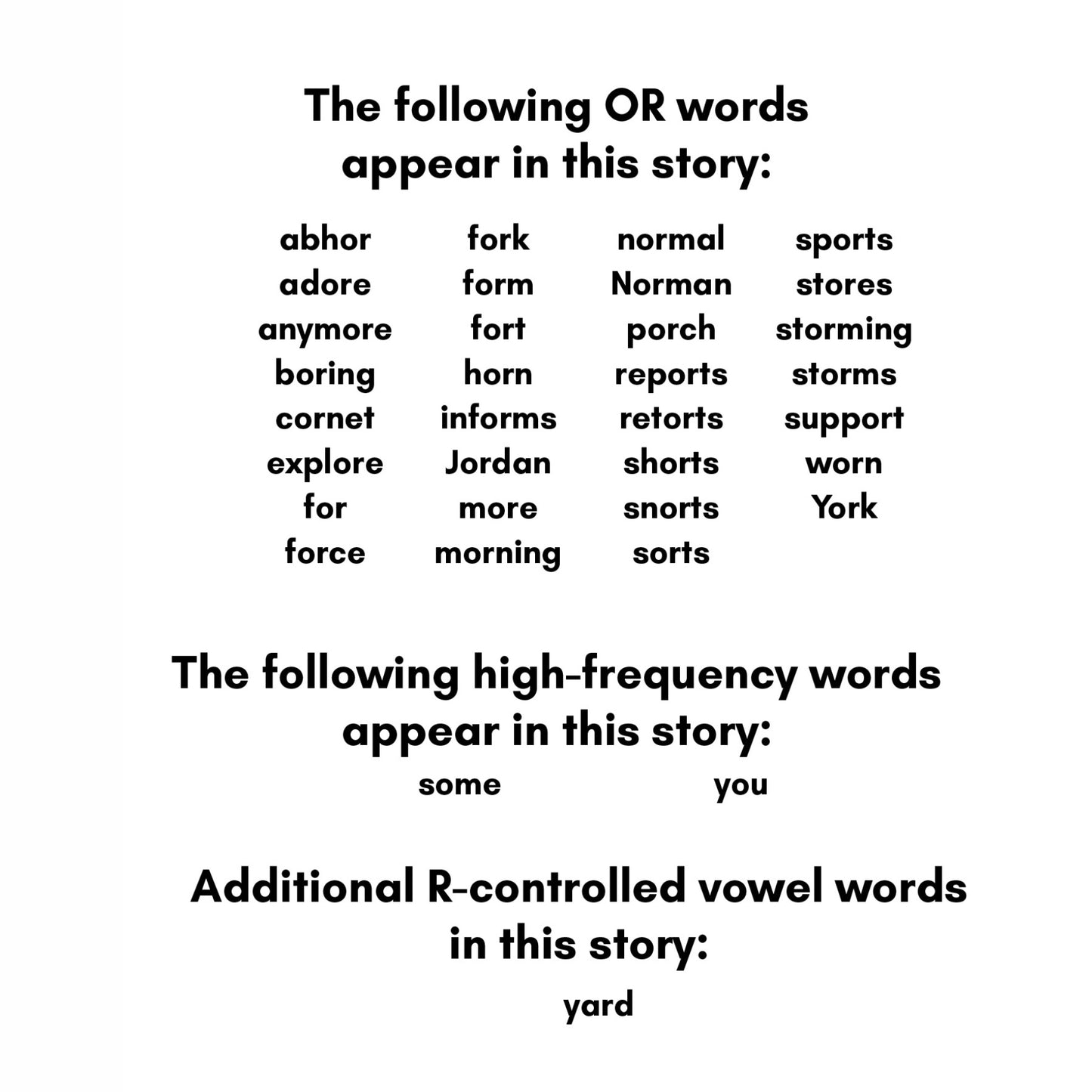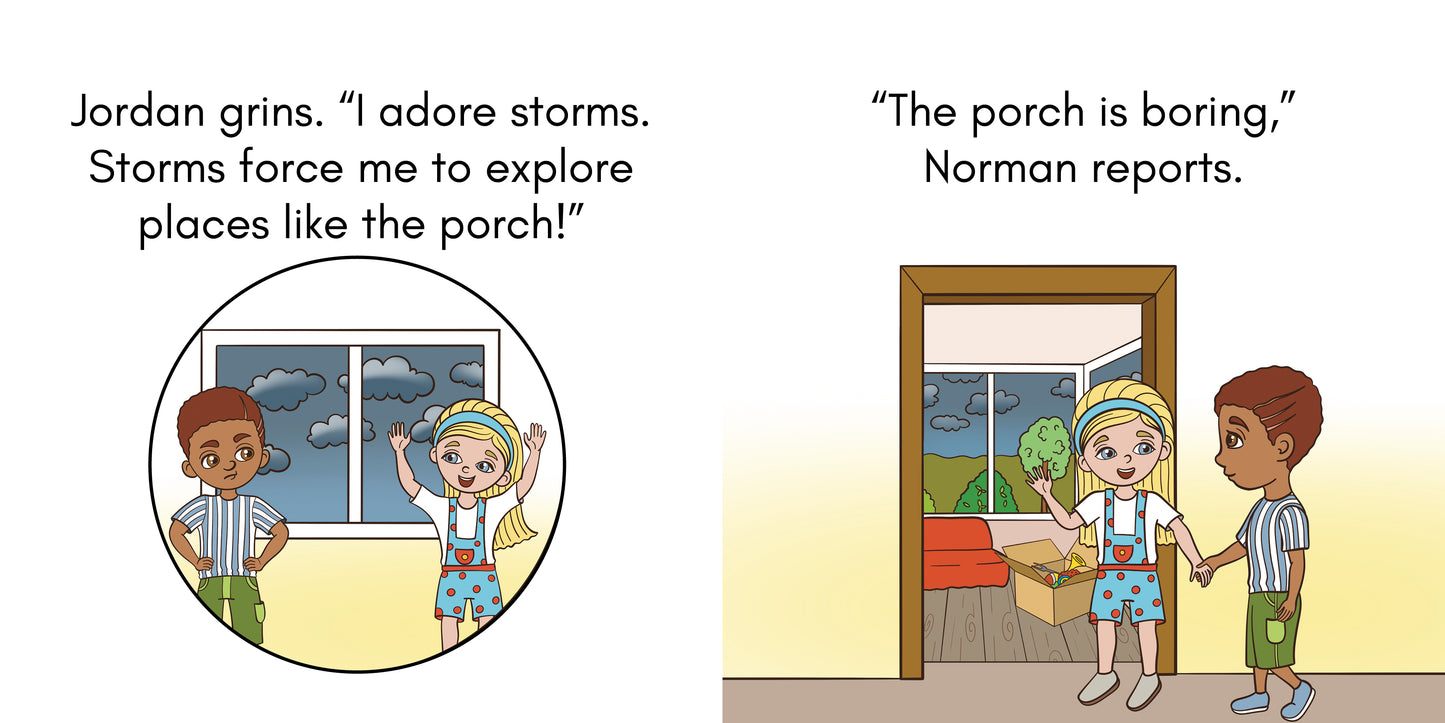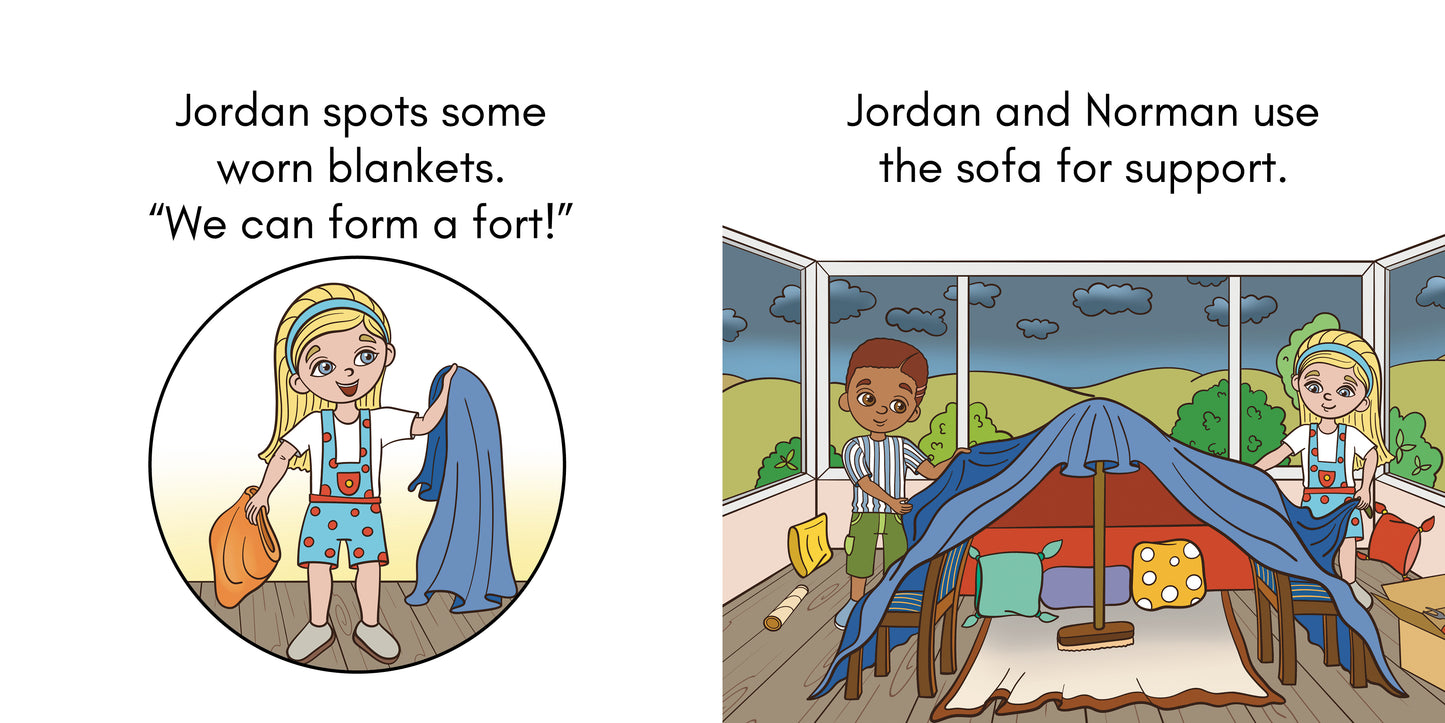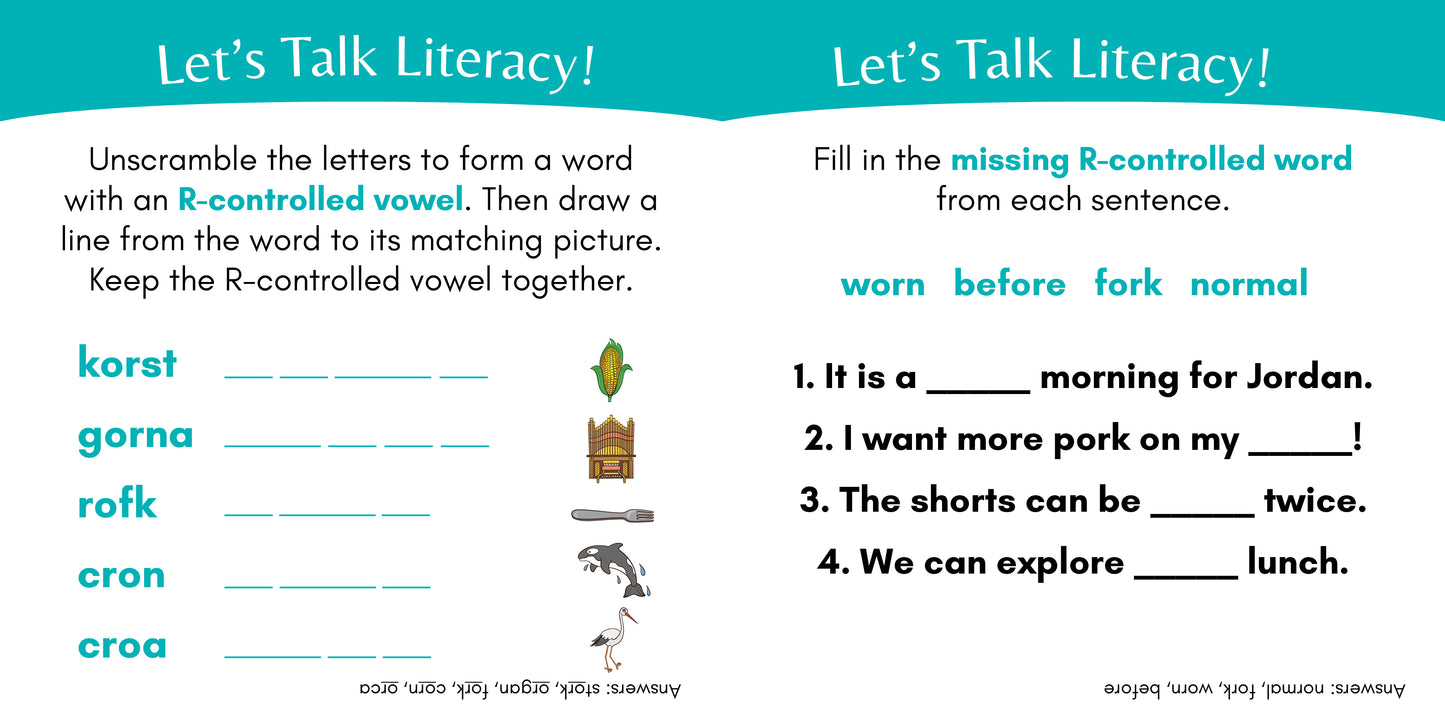 Features Three R-Controlled Vowel Books
Learn AR Words

Mark is taking part in a fishing contest. But when the fish prove to be sparse, what will he end up catching instead?

The Shark focuses on AR R-controlled vowels, introducing 31 new AR words.

AR Words introduced in this story: alarm, are, arms, army, bar, barge, barks, car, carbs, Carmen, carp, dark, depart, far, garb, hard, Mark, Mark's, marlin, parka, parks, remarks, scarf, scarfs, shark, smart, sparse, stars, starts, starve, yard

Learn ER Words

Bert and Kirk are baking a cake. But what will happen when Kirk doesn't quite follow the instructions?

Bert the Baker focuses on ER R-controlled vowel, introducing 19 ER words, 7 IR words, and 6 UR words.


ER, IR, and UR words in this story: alerts, baker, batter, Bert, Bert's, better, blurts, burnt, butter, chirps, concurs, curd, curls, expert, firm, first, gather, Kirk, mixer, orders, other, prefer, rubber, shirt, slivers, softer, stir, stirs, timer, together, turns, upper


Learn OR Words

Norman hates storms. They are so boring! That is, until Jordan shows him how fun it can be to explore the porch!

The Storm focuses on IR R-controlled vowel words, introducing 31 new IR words.

IR words in this story: abhor, adore, anymore, boring, cornet, explore, for, force, fork, form, fort, horn, informs, Jordan, more, morning, normal, Norman, porch, reports, retorts, shorts, snorts, sorts, sports, stores, storming, storms, support, worn, York


High-frequency words in this story: some, you



Additional R-Controlled Vowel words in this story: yard
Includes 8 Pages of Reading Activities Per Book
R-Controlled Scramble

Word scrambles are a great way for kids to figure out how words go together! This R-controlled activity encourages children to unscramble words by locating the R-controlled vowel sound within the word.

R-Controlled Word Match

Many words can look our sound similar when read. This R-Controlled Word Match encourages decoding skills by asking children to read a series of similar words and to determine which one is the right match for the picture.

R-Controlled Picture Match

Learning to hear an R-controlled sound in a word takes time. This R-Controlled Picture Match encourages children to listen carefully to the sounds that make up a word to determine which ones contain R-controlled sounds.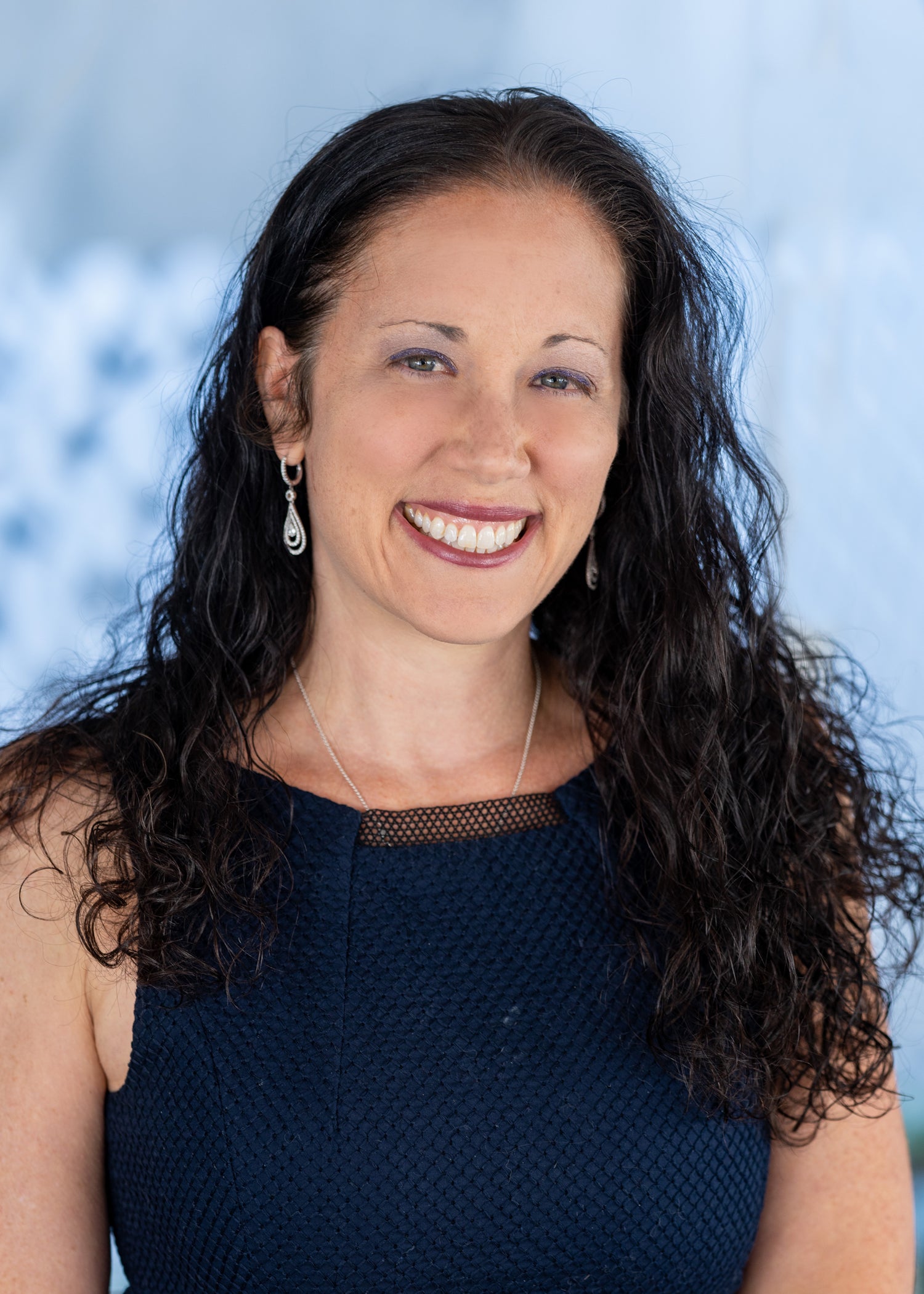 About the Author
Brooke Vitale is a children's book editor, author, and proud founder of Charge Mommy Books. Over the course of her 15+ years at top New York publishers, Brooke Vitale has edited thousands of books, including best-selling titles Hide-and-Hug Olaf and Olaf's Night Before Christmas. Today, Brooke works as a freelance children's book editor and runs brookevitale.com, a website dedicated to helping aspiring authors navigate the publishing and self-publishing industry. Since beginning her freelance career, Brooke has helped more than 1,000 authors achieve their dream of publishing a book.
But Brooke is also a prolific writer in her own right. She has worked with top children's book publishers including Penguin Random House, Scholastic, HarperCollins, and Disney Book Group to publish more than a hundred books, including The Magic Is in You, The Mandalorian: A Clan of Two, Goonies: An Illustrated Classic. All told, Brooke's books have sold over 500,000 copies and climbing.
Brooke lives in Connecticut. When she is not writing or editing she can be found playing Charge Mommy in the backyard with her two young sons.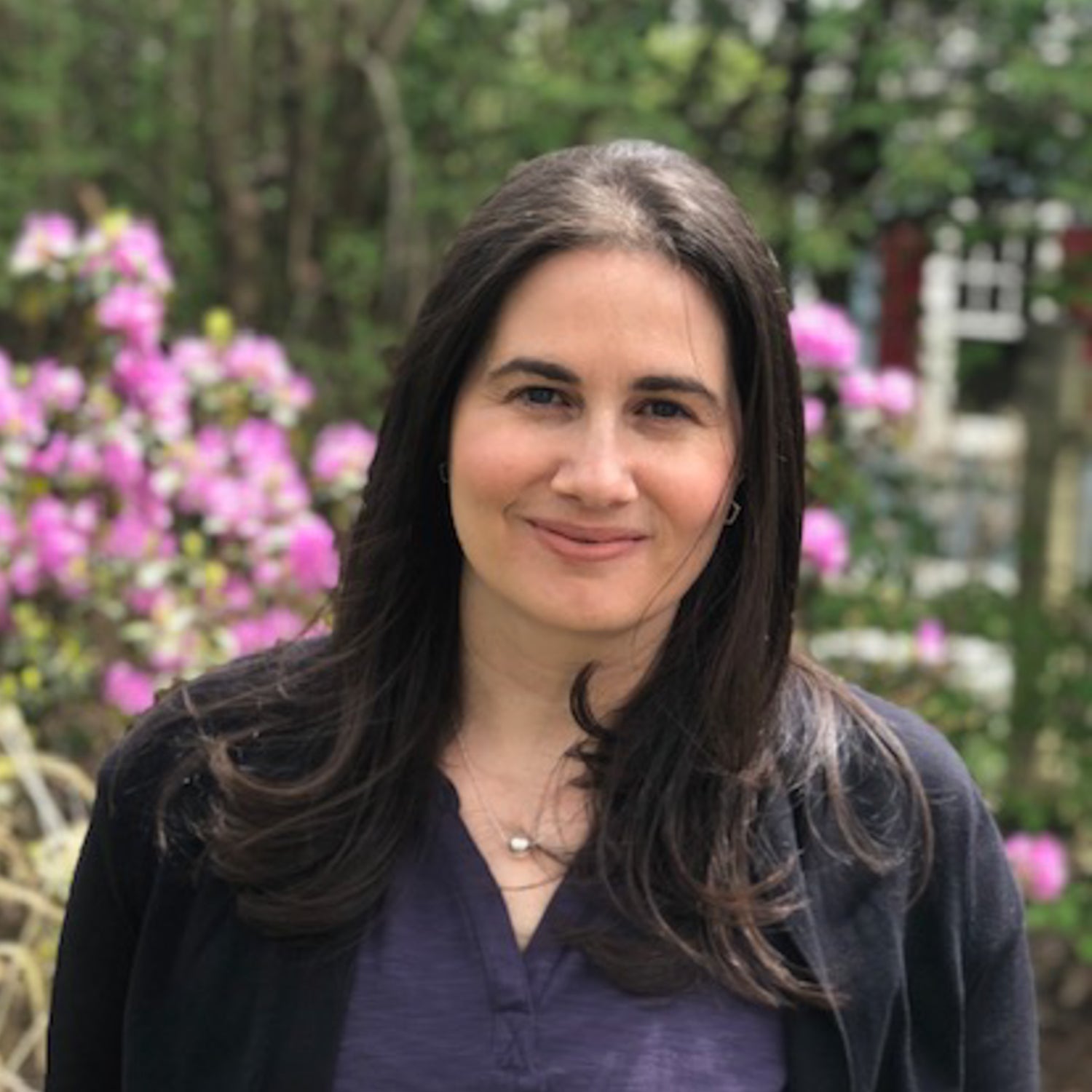 About Our Literacy Specialist
Marisa Ware, MSEd, is a LETRS, Top Ten Tools, and Orton-Gillingham-trained reading specialist and executive function coach. She also creates educational resources for teachers, parents, and homeschooling families. Marisa received her BA in behavioral science with a minor in English. While teaching full-time in the classroom, she went on to earn her Master's in Education, and has devoted the past 10+ years of her career to literacy education. Marisa currently works privately in one-on-one settings with elementary and middle school students. She blogs about literacy education at MW LITERACY®. Residing in Connecticut, Marisa lives with her husband, two children, and lots of books and greenery.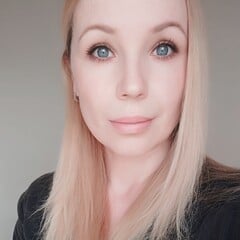 About the Illustrator
Mila Uvarova graduated from Saint Petersburg Institute of Art Sculpture. She has worked as a designer, PR manager, and illustrator for books, logos, and private label brands. Mila's favorite artist ever is Danish caricature master Herluf Bidstrup.
Super!
These books work perfectly with OG scope and sequence and provided great practice for my students who are working on r-controlled vowels. I highly recommend these decodables!